London
Thursday November 20, 2003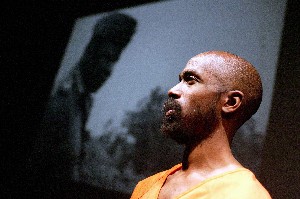 By Robert McCrae

A play traversing the topics of Idi Amin and AIDS doesn't sound like a night bursting with joy but this monologue weaves these heavy topics into a riveting discourse.

Ntare Guma Mbaho Mwine writes, performs, and governs the stage in this tale of a Ugandan soldier fighting for liberation, and then trying to survive in the sprawling loneliness of mid-America.

Lengthy army training followed by hysterical female adulation seems to make joining the ranks of an African despot an enticing one. It is not. Especially when it's explained that when dividing up the female support the generals picked the prettiest while the soldiers get the ladies whose qualities have been somewhat diluted.

Shipped off to Cuba a random test reveals that the soldier has AIDS - a disease that spreads through his comrades like a plague. In America, with a photocopied social security card pursuing a job, our protagonist is fighting the disease, fighting to keep his son and displaying a will that lays bare the enduring strength of the human spirit.

A stock semi-inspiring passage this could be, but it becomes a whole different beast amidst the authority of the performance. With only a spotlight for company Ntare carefully measures out the tale, impaling each account with such startling fervor and passion, it's guaranteed to put you to shame.

He bridges the uneasy chasm between topics and delivers a story of true inspiration. You may not recognise the context but it is one that, as it intensifies, transforms into something quite awe-inspiring.

"Will do anything to survive even if it means going to hell," he says in the grip of the terminal disease. "I'll do it to survive, then move on." A maxim we'd all like to believe in.