London - Thursday November 27, 2003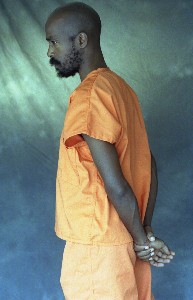 'I just take what strikes me'

Ntare Guma Mbaho Mwine's one-man show about a friend's battles with Idi Amin and Aids is a vivid experience - as are his photographs which accompany the play.

By Chris Arnot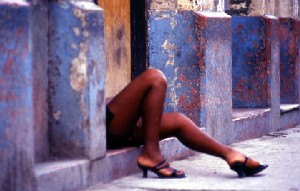 They are very shapely legs, protruding provocatively into the gutter from a kerbside in Havana. Strappy shoes at one end, the hem of a short black skirt at the other. The rest of the woman is hidden from view, leaning back into the peeling stucco of a dingy doorway.

"Yes, she was a prostitute," says Ntare Guma Mbaho Mwine, the actor-playwright who took the photograph. "And no, she didn't want to be identified. In the end, I think it made a better picture than it would have been with all of her in view."

Certainly there's a telling contrast between the unblemished smoothness of those legs and the squalor of their surroundings. When the photograph went on sale at a Cuban art festival near Mwine's home in Los Angeles, the price tag was $550. But visitors to the bar at London's Drill Hall Theatre can see it for free before or after his one-man stage show, Biro. It's one of a dozen or so stunning images of Cuba and Uganda which he hopes will give audiences "a glimpse into the world that my character has experienced."

The eponymous Biro is based on a close friend of Mwine's who fought against Idi Amin and then Milton Obote in the National Resistance Army, led by Uganda's current president, Yoweri Museveni. Biro underwent some training in guerrilla warfare in Cuba before being expelled for being HIV positive.

Haunted by the knowledge that his son faced a similar lingering death, he sneaked into the US as an illegal immigrant in a desperate attempt to raise the money for medication to send back to Uganda. Arrest followed, and the play is based on a 90-minute explanation to his lawyer about how he came to be in an American cell, a shapeless orange uniform hanging from his wasted frame. Mwine shed 35lbs (around 16kgs) to play the role in front of an appreciative audience at the National Theatre in Kampala.

His own experiences of America are very different from those of his friend. He was born there in 1967, the son of Ugandan parents living in New Hampshire. His father studied at Dartmouth College before moving on to law school at Harvard. Towards the end of the 60s, he bought his son an expensive Pentax MX camera. Little could he have known that the lad would still be using it to such mesmeric effect more than 30 years on. In fact, he took some of the Cuban pictures on the morning of his wedding, in 2001, while wandering around Havana with his mother and his Pentax.

One photograph shows a Ugandan baby nestling into its mother's shoulder while a glistening trickle of sweat runs from behind one ear and down the side of the neck. The oppressive African heat almost oozes through the gloss of the print.

Another shot shows piercing blue eyes set in the black face of a small boy. "I love playing around with colour," says Mwine.

But he is, first and foremost, an actor. Television credits include ER and Law and Order. His masters degree from New York University was completed with studies at the Moscow Arts Theatre and the National in London. "I've never studied photography," he confides, "so I don't know the rules. I just take what strikes me."

On his most recent visit to Uganda he was on the road with a camera crew, filming a documentary, when he spotted a funeral procession. Out came the Pentax, and out of the car leapt Mwine. He was rewarded with a picture of a cyclist with a coffin laid across the back wheel, casting a sombre shadow on the road. In the corner, across some scrubby wasteland, is a billboard displaying the words MUMMY'S DELIGHT. "It's some kind of baby cream," he explains. "To be honest, I didn't even see it until I was printing up. I was lucky."

Lucky in more ways than one. Jumping from that car, he narrowly missed being run over by a bus - a photographer dicing with death at someone else's funeral.