FINANCIAL TIMES London
WORLD REPORTS - UGANDA
April 15, 2003
Revisiting real-life nightmares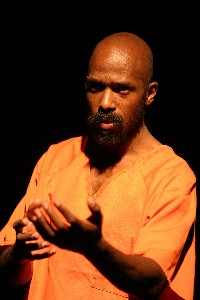 By DAVID WHITE

The National Theatre in Kampala is a monument to the late 1950s, the closing period of colonial rule. A plaque in the dimly lit foyer commemorates its inauguration by Uganda's last-but-one British governor.

Apart from layers of grey paint in the interior, there are few signs of renovation. An intermittent programme includes school concerts and amateur dramatics.

It might seem an unlikely place for an actor-playwright, given the choice, to travel 7,000 miles to premiere a new work. It is also hardly the most obvious venue to make a hit out of a 100-minute monologue. But that is what Ugandan-American actor Ntare Mwine succeeded in doing with his one-man show, Biro, launched here in January.

In part a re-telling of Uganda's violent post-independence history, the play is a colourful, impassioned account of real-life nightmares. Bitter, but often funny, it recounts the saga of a young Ugandan who grows up through dictatorships, joins the bush guerrilla movement as a teenager, gets sent to Cuba for training, contracts HIV, finds his way into the US to seek treatment illegally and ends up in a Texas jail. The play's setting is his prison meeting with an unseen lawyer.

The only decor is a succession of black-and-white photographs projected on to two sheets hung in the background.

Going back to a village childhood, the story revisits the traumatic events that followed the arrival in power of General Idi Amin Dada - "an illiterate madman... a nightmare simple and impure" - and later the second presidency of Milton Obote which, by comparison, "made Amin look like a time of tranquillity".

The protagonist's name, we are told, is a short form Mwerendebiro, meaning "beware of time".

The atmosphere of unremitting adversity, which continues through Biro's experiences abroad, is made bearable only by flashes of humour and the protagonist's candour and tenacity.

"I'll do anything to survive," he says, "even if it means going to hell. I'll do it to survive."

For the 35-year-old actor - who prefers to go by his full name Ntare Guma Mbaho Mwine - the play is a return to family roots.

Born while his father was studying at Dartmouth College in New Hampshire, he has spent most of his life in the US, although his parents went back to Uganda.

He performs the role of Biro in a thick, raucous accent learnt from being among his relatives. Occasionally he switches to other characters, including a take-off of Amin at his most buffoonish, posturing as "the conqueror of the British empire in Africa". It is only late in the play, depicting some of Biro's encounters in the US, that he catches the audience off-guard by revealing his own American voice.

He is pleased and relieved about how well the play was received in Kampala, where its initial run was extended to meet the demand.

"I really wanted to stage the story here," he says, but admits: "I didn't know what to expect." It was hardly the standard fare of Ugandan theatre, where "about 20 people appear on stage, there's a gunshot somewhere and someone comes on in his underpants".

President Yoweri Museveni went to the opening performance and praised it, saying the story was "mobilisational".

But although the Biro character enlists with the National Resistance Army - which General Museveni commanded in the early 1980s, and which eventually brought him to power - the author does not want the play to be seen as propaganda. "I didn't write this as a platform or vehicle for the NRA," he insists.

He meant it to bring three causes together into one narrative - "the struggle for democracy, the struggle with Aids and the struggle of illegal immigrants".

It has been almost entirely a single-handed enterprise. He based the play on a real story, painstakingly compiling details from 30 hours of taped interviews.

He slimmed drastically to fit the character. Being a photographer as well as actor, he sold some of his work to help finance the production. He has looked after the marketing and accounts, and is preparing a documentary on the whole process of taking the play to Kampala.

"My dream," he says, "would be to tour through Africa with it."