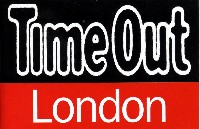 Time Out - London
April 15, 2003
By Jonathan Gibbs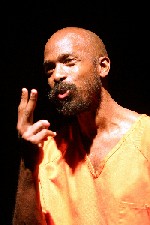 Biro is short for Mwerindebiro, meaning "beware of time because it has all the answers" and it is the name of the central character in this slow moving but impressive monologue. It opens with Biro holed up in a Texas jail. He is an illegal immigrant, living with AIDS, but doing well on medication. Dressed in the familiar regulation orange uniform, head shorn and radicalised beard bristling, he is trapped in a tight spot light, twitching with unexpressed thoughts and fears. His thoughts go to his son, at home in Uganda, and back further to his childhood under the regimes of Idi Amin and Milton Obote, and his revolutionary career in the National Resistance Army.

Biro is played by Ntare Guma Mbaho Mwine, who researched the play in Uganda and the US, and as a composite memoir of a generation blighted by political oppression and AIDS it works well. Mwine's performance is wired, vivid and insistent. Although he carries the audience with him for most of the two hours, the really electric moments are when Biro oversteps the limits of our sympathy for his hard life - when for instance, he admits to practicing unsafe sex even after being diagnosed HIV-positive.

For all of Biro's hectoring, though, this is no lecture. Time may have all the answers, but Mwine does not claim to. His play is a strong addition to the margins of the burgeoning documentary theatre genre.